We have developed our own product, OPELAIII, wearable surgical lighting system. Having a third-class marketing license for medical devices, we have been manufacturing and marketing it globally since 2017. On the other hand, we are engaged in marketing medical devices of other companies as a trading company.
Please refer to the following and each links for more details, and please feel free to contact us if you are interested in them.

Medical Lighting (Wearable Surgical Lighting Systems)
"Not just a shadowless light, not just a headlight… this is the next-generation medical light…" – OPELA III
We have developed our own wearable surgical lighting system and started marketing the product in Japan and overseas in 2017. OPELA III was our answer to doctors who have expressed that they want a lighting system that makes it easier for them to see affected areas. In pursuit of a wearable surgical lighting system that provides clear visibility, easy movement, and comfort, one of Japan's leading surgical light specialists and experienced product designers have gotten involved with the development of the OPELA III, a lighting system that will change the way surgery is performed.
Click here to go to the OPELA III website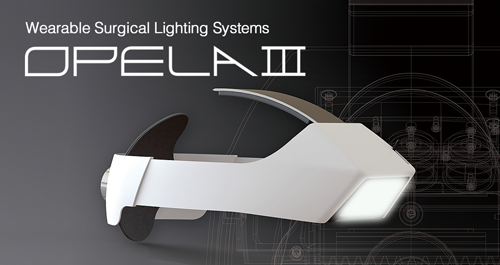 Portable Ultrasound scanners (Target area: global)
*Pharmaceutical certification application in progress

Socionext, Inc.

Lequio Power Technology Corporation

To enable stable continuous usage even during power outages, the product can be powered by a PC battery via the USB port of a PC.