Our trusted network
In the Middle East and North Africa regions, we have a partnership with Trading Medical Systems Private (TMSP), a local dealer based in Jordan. TMSP has distribution rights for the entire Middle East and North Africa region, and offers products and services through trustworthy agents in each country.
These agents have built up a large solid network in their respective countries, with conglomerates that handle everything from hotels and real estate agencies to financial companies.
Our access to this extended network ensures that your business in the Middle East proceed smoothly and effectively.
Partners in the Middle East and North Africa
We have reliable partners in the Middle East and North Africa regions.
Our unique connection with various nationalities is one of the great assets we have cultivated over the years.
Reliable distributors in each country (Sub-dealers)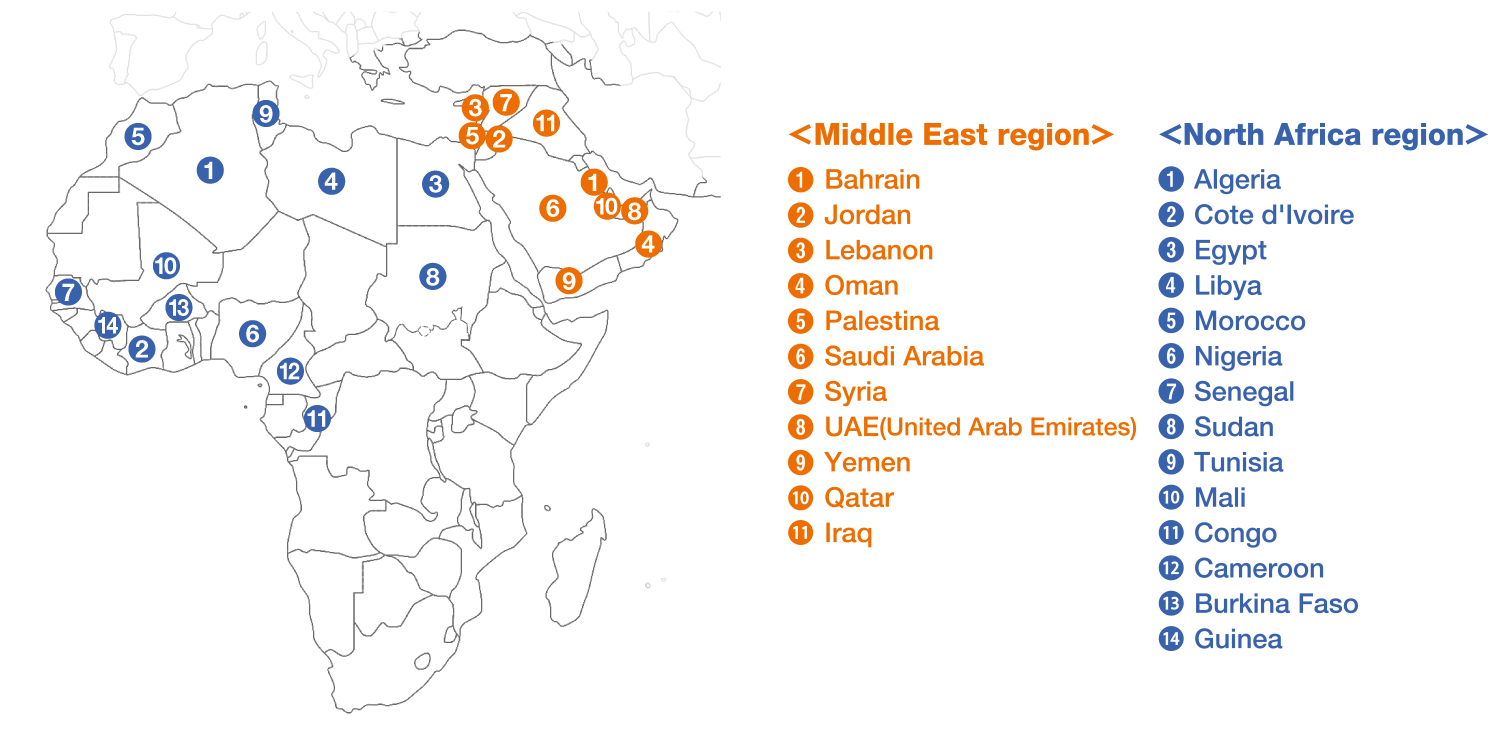 Middle East region
Despite the influx of specialists and advanced technology, there are still many investment opportunities.
Countries rich in oil money such as Saudi Arabia and the UAE attract many specialists from abroad. Many doctors, for instance, are from Egypt, and the professors at national and university hospitals are westerners. Despite these positive changes, there are still many investment opportunities to be taken advantage of. For instance, while advanced medical equipment has found use in large hospitals, they have yet to find their way into smaller hospitals. Construction and infrastructure projects are also expected in the future.

番号
国旗
国名(日本語・英語)
代理店名
➊
バーレーン王国
Kingdom of Bahrain
Green International Medical Company
➋
ヨルダン・ハシェミット王国
Hashemite Kingdom of Jordan
Trading Medical Systems Private Trading Medical Systems Jordan EST.
➌
レバノン共和国
Republic of Lebanon
Dima Healthcare SAL
➍
オマーン国
Sultanate of Oman
Bahwan Health Care Centre L.L.C
➎
パレスチナ
Palestina
Beit Al Makdes Health Services, BEAM
➏
サウジアラビア王国
Kingdom of Saudi Arabia
Gulf Medical
Gulf Dental
➐
シリア・アラブ共和国
Syrian Arab Republic
Film Trading Company
➑
アラブ首長国連邦
United Arab Emirates
Gulf Drug L.L.C.
➒
イエメン共和国
Republic of Yemen
Modern Medical Technology Est.
❿
カタール国
State of Qatar
Al-Danah Medical CO. W.L.L
⓫
イラク共和国
Republic of Iraq
Agmest Medical & Scientific Systems & Appliances Services & Marketing Co. Ltd.
North Africa region
This region is overflowing in business opportunities.
Although Morocco, Algeria, and Tunisia in the Mediterranean area are Islamic areas, the influence from French culture gives them a strong European character. There is still much to be developed in the other countries in the region. We constantly receive inquiries for medical equipment.

番号
国旗
国名(日本語・英語)
代理店名
➊
アルジェリア民主人民共和国 
People's Democratic Republic of Algeria
SARL Aures Materiel Medical
➋
コートジボワール
Republic of Cote d'Ivoire
Afric Medical
➌
エジプト・アラブ共和国
Arab Republic of Egypt
Medical Technology for Trading
➍
大リビア・アラブ社会主義人民ジャマーヒリーヤ国
the Great Socialist People's Libyan Arab Jamahiriya
North Africa Pharmacentical and Medical Equipment IMPORT Company
➎
モロッコ王国
Kingdom of Morocco
Batra Medical
➏
ナイジェリア連邦共和国
Federal Republic of Nigeria
JNC International Limited
➐
セネガル共和国
Republic of Senegal
Afrimed Suarl
➑
スーダン共和国
The Republic of the Sudan
Golden Eagle for Medical Equipments
➒
チュニジア共和国
Republic of Tunisia
SONOIMAGING
❿
マリ共和国 
Republic of Mali
Afric Medical
⓫
コンゴ共和国 
Republic of Congo
Ingenierie Services et Developpement
⓬
カメルーン 
Republic of Cameroon
FORTEX SARL
⓭
ブルキナファソ 
Burkina Faso
Global Health Service S.A
⓮
ギニア共和国
Republic of Guinea